Denture implants have been around for over 30 years.
WHAT ARE DENTURE IMPLANTS
A Dental implant is an artificial replacement for a tooth root, usually made from titanium and are suitable for most people as they are made from bio compatible materials. Dental Implants are small titanium screws that are fixed solidly into the jaw bone by means of a surgical procedure. They are permanent and provide support for a single missing tooth or to a complete set, which requires at least four implants. Once the dental implants are fully integrated with the bone, they become solid anchor points to which a denture can be attached. Dental implants restore denture retention and improve the chewing function and confidence.
The success of dental implants depends upon regular dental visits and meticulous oral hygiene. A healthy mouth helps ensure the best possible functioning of the dental implant. Denture Implants will last a lifetime with good care and oral hygiene.
BENEFITS OF DENTAL IMPLANTS
Improve denture stability and function
Renew eating confidence
Eat foods you have avoided for years
Talk and laugh with confidence
Stable and secure fit of your dentures
Bite comparable to your own natural teeth
Reduce denture soreness and No need for denture adhesives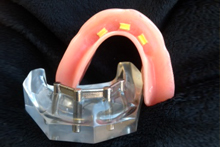 SIGNIFICANT ADVANTAGES
The long term affordable denture option
The majority of denture wearers suffer from loose uncomfortable dentures, this is because over time the jaw bones on which dentures sits shrink, reducing the height and width of the supporting structures on which dentures rely on for retention; this is particularly notable in the lower jaw.
The ability to stabilise dentures in the mouth with denture implants is perhaps one of the most significant advances in denture technology. Utilizing these state of the art dental implants will significantly improve denture retention, denture irritation and the ability to improve your facial and overall appearance.
IMPLANT ASSESSEMENT – TREATMENT PLAN
Unfortunately not every denture wearer will be suitable for implants, however if you are considering dental implants, Johan will recommend and refer you to an implant surgeon for a full assessment. This involves a CBCT scan – Cone Beam Computed Tomography scan is an advanced X-ray technique that produces three dimensional images of the jawbone to establish the nature and density of the underlying bone. The implant surgeon will examine and determine whether an Implant placement is possible and which implant treatment will be best suited.
IMPLANT PROCEDURE
Once implant suitability has been established, an appointment is made with our Implant surgeon to have the implants placed. The implant placement is a relatively simple minor surgical procedure that can be performed under sterile conditions in a dental surgery. The treatment is performed under local anaesthesia with sedation if required. The healing process on implants can take from six weeks to six months, depending on individual circumstances. During this integration period, you will still be able to wear your existing denture or a temporary denture and function as normal.
IMPLANT DENTURE PROCEDURE
Once the implants have successfully fused to the jaw bone then the abutment (the part to which the denture will be attached) is screwed into the implant. As soon as the abutments have been placed, impressions for your new dentures are taken and we can start making your new dentures. This can take up to three weeks over four or five appointments depending on the complexity of the dentures.
ULTIMATE RESULTS
All round denture confidence
For the ultimate rejuvenation, combine a denture facelift with denture implants and truly achieve the ultimate denture and facial reconstruction.
The results that can be achieved using denture retained by implants and facelift denture treatments are truly inspiring. Using this combination we have successful returned many denture wearers to full and comfortable function, enjoying renewed confidence and social interaction again.
IMPLANT COST
Affordable denture security
The cost of having denture implants very much depends on the complexity of treatment and the number of implants placed. An individual treatment plan and quotation is necessary to establish precise cost.
For more information on dental implants - pleas call us on 020 8866 5364 for a consultation or make an online booking.